FRESH FISH for a changing neighborhood
On a random day in November, at a random hour in the middle of the week it struck me; It was time to make that fish sign! I went directly into my studio and found all the sketches, measurements and color studies. I prepped a piece wood and began cutting. Once I began painting, it wasn't long until my very first hand-made "Fishtown" fish was complete and ready to hang. This was something on my "to do" list ever since buying this house. I probably would have bought a fish sign from the local Neighborhood Association if they had one available, but they didn't. At least one in the shape of an actual shad. Plus I needed something with some personality, with some potential.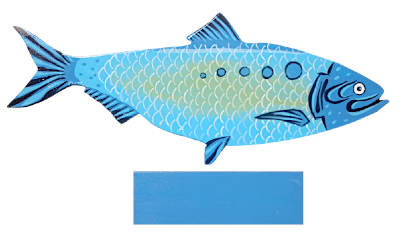 My name is Troy, and this is my Standard Shad. I wasn't trying to re-invent the fish sign. I took a classic approach to a sign everyone already loved, and updated it with my own idea of a durable piece of art that you can be proud to hang on the front of your home. Each sign is unique, I use high quality materials and offer a lifetime warranty.
And because I'd like these fish signs to do a little bit of good, for every one sold 10% of the sale will go to the Fishtown Neighborhood Association.
No two are fish are identical! Each sign stays within a general color range and style in order to maintain its character and uniformity throughout the neighborhood. Each one is cut from MDO board, individually hand painted, and finally sealed with polyurethane.
Each sign measures 24" x 12". It comes with a painted 3.5" hanging number plate, eye hooks, and chain.
Price: $99.00
Oh yeah! If you live in Fishtown, I'll hand deliver your sign for free.